Julian Butz was a born loser. Look at him. Look at that face. Jesus. He got thrashed by Doctor Thunder in the first GOON1 Climax tournament, too.
His signature move is a senton bomb from the top rope, the Buttcoin Buster.
Don't bet any money on him.
This motherfucker lost to Jobby and got germand to death by Cyber Andre.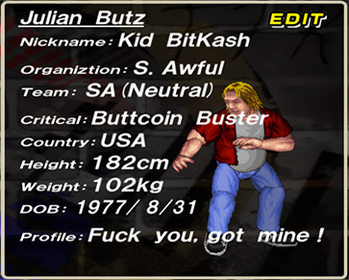 Date
Match
Opponent
Result
Record
Notes
Ad blocker interference detected!
Wikia is a free-to-use site that makes money from advertising. We have a modified experience for viewers using ad blockers

Wikia is not accessible if you've made further modifications. Remove the custom ad blocker rule(s) and the page will load as expected.