Fucktrain Jethro has been around since the first GOON1 Climax, where he ran through Johnny PUA like it was nothing, only to lose his next match against the Gravitron. This pissed him off and he "hates that fat asshole."
Since GCW has started up, he's taken to the Fat Fatterson Gastric division, where he and other morbidly obese "wrestlers" battle it out for the chance to become skinny for a little bit. He doesn't get the respect he deserves, probably because of his extremely poor hygiene and his penchant for doing drugs in front of everyone.
This fat piece of shit uses a camel clutch as his finisher, which he's dubbed the "SMELL MY FINGERS."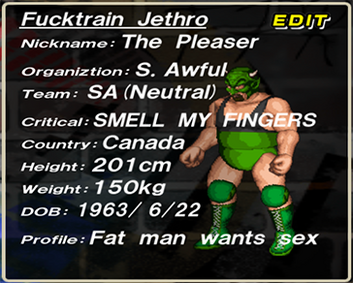 Date
Match
Opponent
Result
Record
Notes
Ad blocker interference detected!
Wikia is a free-to-use site that makes money from advertising. We have a modified experience for viewers using ad blockers

Wikia is not accessible if you've made further modifications. Remove the custom ad blocker rule(s) and the page will load as expected.