Richard Bragg, AKA Dick Braggar, entered the GOON1 Climax with high hopes, only to be tossed aside in his first match like so much garbage by The Yummy Mummy.
He has since joined forces with the Deviant Seven, participating in several multi-man brawls in an effort to be noticed and prove himself.
His signature move is his inescapable Small Package, "The Bell End."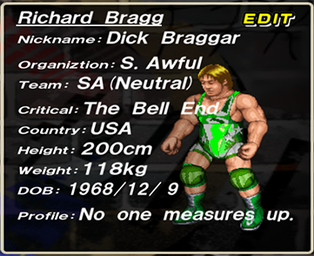 Date
Match
Opponent
Result
Record
Notes
Ad blocker interference detected!
Wikia is a free-to-use site that makes money from advertising. We have a modified experience for viewers using ad blockers

Wikia is not accessible if you've made further modifications. Remove the custom ad blocker rule(s) and the page will load as expected.